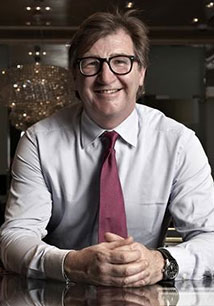 Before John Ayton was known as the luxury entrepreneur, he was a corporate lawyer in Hong Kong who faced an ultimatum by the partners – focus on the firm or go work on your business projects. He choose the projects. After leaving Law, Ayton started Links of London with wife Annoushka Ducas. Since the sale of Links for £50m, he has held active roles in luxury watch company Bremont, tailored swimwear company Orlebar Brown, and high end shoe maker Mr. Hare among others. The following is coverage of an informal Q & A session with John Ayton mediated by The Clubhouse owner Adam Blaskie.
After introductions, Ayton covered the lifecycle of a business, from inception, fund raising, growing the business for sale, and what he is focusing on going forward.
"Why start a jewellery business in the middle of a recession, Links of London (1990) and Annoushka (2009)."
He stated that setting up in the middle of a recession provided a real sense of value. "When things are going well it is difficult to make an impact and recruit people, however at the bottom of a cycle people are looking around and that provides opportunities."
Ayton emphasised that entrepreneurs are optimists who tend to jump into industries to solve problems as a reaction to their environments. Links of London's first product, a set of fish cufflinks, was developed to meet the needs of his mother who sold premier fish to restaurants and needed a present for clients. That provided the opportunity for the first 120 unit run of the now classic fish cuff links.
"What has your experience been in raising capital?"
When it comes to raising capital his journey was quite conventional until an unforeseen event forced the company to scramble for funds. Ayton started by pooling his own funds of £2,000 when starting Links, then borrowed with a guarantee of £10,000 to help increase stock and set up the corporate identity, then focused on reinvesting all funds to grow the business – It wasn't until 1999 that he went out and raised £1m.  In 2001 with the opening of a NYC storefront things looked positive….then 9/11 happened one month later. At this point Ayton said that they nearly went bust and had to raise money quickly. They ended up getting funds from an investor, which Ayton said showed the character and commitment of the individual, that saved the company.
"As a start-up what is the right rate of growth to achieve?"
"Fellow business leader Nick Wheeler and I disagree on this topic." Wheeler, founder of clothier Charles Tyrwhitt, talks about the power of compounding and aims for 10-15% compounded annual growth rate (CAGR) with the view that you should stick to your knitting and not sell the business. "Mine were all focused on selling, and to sell at a good multiple you have to show growth that's ahead of your traditional levels."
So in the end it depends on your goals. With 100% ownership of Annushka and no plans of selling he is comfortable with 10-15% growth. Part ownership ventures with exit strategies such as Bremont, he aims for a more aggressive level of 30-40%.
"Where to find growth"
Ayton made two points. First is that you need a good multiple and growth generation by focusing on organic growth (like for like). Reason being is that it is easy to increase volume in sales by opening more stores but it comes at a great cost and many buyers will see through the inflated sales volume. Second is the importance of online growth. Orlebar Brown for example could take advantage of international demand after being featured in James bonds Skyfall, through their online platform.
"At what point should you start looking at the potential sale of your business"
In the case of Links there was a 3 year run up to the sale which involved building a new team so the company could be ran independently of the co-founders with the goal of sell and walk away. Once the company was ready Ayton said that at investor presentations the co-founders barely spoke, and that was the plan.
"How about the actual process?"
It all started with vendors due diligence (DD) as it was an auction process. This brought up the concerns of an exclusivity period where he said "There is nothing worse than aborting a bid and having to go back to the second bidder." In the end the husband and wife team sold to Folli Follie, a greek luxury retailer.
After the actual sale he said he felt rather deflated and just went out and bought a pair of socks.
Ayton was able to go from strength to strength after the sale of Links with the creation of Annouhska a luxury jewellery company, where he could apply much of what was learned. They key lesson was a combination of distribution tactics and volume growth.
With Links "The journey to £1m turn over took 5 years, £1-10m was quicker, and then £10-100 was even quicker. The tipping point was going direct to consumers and having a store presence." To overcome this with Annoushka, he acquired a company with concession sites in key stores. By purchasing the infrastructure Annoushka could scale rapidly while controlling the supply chain.
"So what are you currently doing?"
Ayton said that as an entrepreneur there is nothing worse than doing nothing. "It's fine going shopping, fine going traveling, fine redecorating your house, but the end of the day your slightly defined by what you do and being the former founder of a company is not very exciting." He further said that he had the thought that it may have been a fluke and that he better do it again to make sure it wasn't. " Currently he spends his time on Annoushka, Orelabar Brown, Bremont and other business ventures such as coffee shop Shoreditch Grind.
"What are the key factors you look for when investing into companies now?"
He went on to highlight three key factors. First was the people, with a focus on synergistic teams – He Highlighted that the yin & yang relationship between two strong co-founders can be a deciding factor. Second is the size of the opportunity, emphasising that Orlebar Brown, the tailored swimwear and casual wear company, was one with huge potential. Last were previous relationships – By bringing in relationships from Links and Annoushka, Ayton was able to place Bremont watches into key distribution channels which was key to growth.
"What scares you?" -This question was fielded by an audience member who highlighted that many entrepreneurs have a strong fear of failure.
"Paris to be honest…what happened there was horrific. The fear of personal failure is nothing compared to what is going on there…the threat to the way of life, and our freedom."
"So whats next?"
Ayton shared a childhood anecdote. One night his father returned form a dinner party and told him about a man he had met that night – This gentleman changed his career every 10 years. This stuck with Ayton and it seems that he is on a similar track. A career in corporate law, entrepreneurialism, and now investing and increased philanthropy.
There were many key takeaways during the night but one off handed comment stuck out. A comment was made that he had quite a bit of luck along the way, which was quickly rebuffed by Ayton who said " You make your own luck".
So go out into the world and make your own luck.