A consortium led by the little known Anbang Insurance Group is currently challenging Marriott International, a known leader in the hotel industry for Starwood Hotels and Resorts.
While in the final stages of the initial deal with Marriott, Anbang led the consortium to put forward a superior all cash offer triggering a three-week bidding war. In the final hours of writing this the Wall Street Journal just broke the news that Anbang has abruptly pulled their most recent $14 billion all cash offer. With a statement released just hours ago, the consortium pulled the offer, "Due to various market considerations". Is this the end of an intense battle, or just another curve ball? I look at both perspectives and what this could mean going forward
Marriott International
There are three main drivers for this acquisition: Increasing Marriott's global footprint across categories, cost synergies, and expanding its high-value-added customer base.
Increasing Marriott's Global Footprint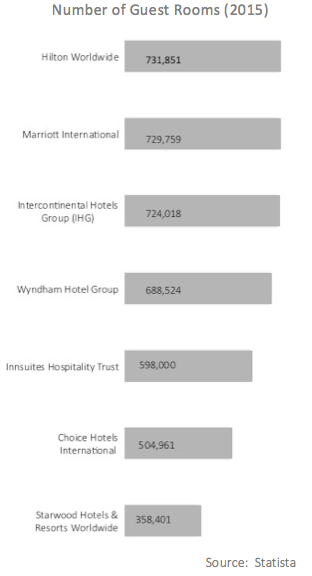 The acquisition would make Marriott the largest player within the hyper competitive and congested hospitality industry with 1.1 million rooms worldwide.
With Starwood's international focus Marriott can gain access to markets it has minimal market share in. Furthermore the transaction would strengthen Marriott's position within the Life-style category where Starwood is a front-runner with its various brands such as W Hotels, Design Hotels, and the St. Regis.
Synergies
Marriott aims to realize $200 – $250 million in synergies post merger through leveraging operational efficiencies according to management. This will be accomplished by focusing on reductions in G&A. [1]
Access to Loyal Customers
Through the consolidation of Marriott Rewards and Starwood Preferred Guest (SPG), Marriott would increase its loyalty program pool by roughly 39%. This provides key data points to further develop relationships with these high value added customers, such as demographics and historical preferences.
How far can Marriott go?
Marriott's initial bid on November 16th 2015 was structured as a Stock and Cash offer. The offer included 0.92 shares of Marriott International, Inc Class A common stock and $2.00 in cash for each share of Starwood common stock plus the proceeds of the Starwood timeshare business "Vistana" totaling an estimated 12.2 billion.[2] The Starwood board accepted the bid until the Anbang consortium put forward a higher all cash offer in the 11th hour.

On the 21st Marriott brought a counter-offer to Starwood shareholders: 0.8 shares of Marriott International, Inc. Class A common stock and a $21.00 cash offering per share totaling an estimated 13.2 billion on the date of the announcement. The offer was quickly countered by the most recent $14 billion all cash offer from the consortium.[3]

What Could go Wrong?
Based on previous analysis provided by Marriott's advisor, Deutsche Bank, Starwood now exceeds all valuation ranges except Analyst price targets, and the most optimistic DCF analysis with Marriott realizing synergies. If Marriott were to continue, they risk over paying which could result in earnings dilution and potentially future Goodwill Impairment.
What are the Alternatives?
Alternatively Marriott has two main options: Seek another target for acquisition, or grow organically through internal investment. The first seems the most promising as organic growth in the hyper competitive and maturing market will be difficult. Knowing that Marriott wants to become the clear industry leader and escape the current top-three, who are all within 8,000 rooms globally, further supports the first alternative.

Anbang Led Consortium
A consortium led by Anbang, a Chinese insurance company, that reportedly includes private equity firms Primavera Capital Group, and J.C. Flowers & Co have been in talks with Starwood since May 6th 2015. The consortium put forward a non-binding offer of $13.8 – $14.3 billion on November 3rd 2015 that fell through due to the inability to provide specifics on how it would be funded. [4] On March 14th the consortium put forward a non-binding all cash offer of approximately $13 billion sparking a three-week take over battle.
Why Starwood?
Anbang is looking to further increase its share of the Hotel industry with Starwood being a strategic fit. Previous purchases by Anbang such as the Waldorf Astoria ($2 billion) in 2014 and most recently Strategic Hotels & Resorts ($6.5 billion), both from Blackstone, would fit well within Starwood's Luxury Collection brand. This provides Anbang with the infrastructure and management team to efficiently run their recently acquired assets.
Many also see the bid as a move to migrate capital outside of the volatile Chinese markets into "safe" tangible assets in the U.S.
What Price Could They Pay, if Any?
The opaque nature of Anbang's management, financing, or true value makes outside analysis challenging. With the initial 2015 non-binding offer lapsing due to lack of specifics on funding, the main hurdle will be providing certainty in its ability to pay. This was overcome when Chinese state lender China Construction Bank Corp. stated they would back the $13.2 billion offer.[5]
Most recently the consortium has put forward a non-binding all cash offer of $14 billion, 200 million above Marriott's counter-offer. China Construction Bank has yet to confirm it will back this offer. Many suggest that Anbang's rapid rise to prominence is attributed to deep ties with the Chinese government. The further backing by a state owned lender would continue to validate those suggestions.
What Could go Wrong?
The biggest issue at hand is guaranteeing financing for the deal. If the China Construction Bank or another third party cannot come forward and back the consortium the deal will most certainly collapse.
Current Situation
In the final hours of writing this news just broke at the Wall Street Journal. Anbang has abruptly pulled their latest $14 billion all cash offer. With no further explanation on why the consortium pulled out except for "various market considerations" we can only guess, was it the inability to raise capital, regulatory requirements, or any other potential issue.[6]
Going forward
Starwood has stated it will stick with Marriott's counter-bid, the cash-and-stock offer currently worth $77.94 per share. Starwood shareholders will vote on April 8th on Marriott's current offer totaling $13.2 billion based on Thursday's closing price. While at the high end of most implied share price metrics, Marriott's management sound confident they can add long – term value post merger. [7]
Only time will tell if Marriott can successfully integrate the two businesses into the largest player within the hotel & lodging sector. With Marriott pulling ahead in global room numbers, look out for more consolidation within the industry as competitors react with deals of their own.
Marriott executives will be under increased pressure to materialize stated synergies as the counter-offer increased their purchasing price by roughly $1 billion. This premium over initial projections in 2015 will have a direct impact on Marriott's return. While trying to reduce G&A costs Marriott will also face challenges in retaining Starwood Preferred Guest loyalty under the new banner. Until then, Starwood Preferred Guests will have to wait and see what happens to their much-loved points.
Sources
[1] Marriot News, 2015 : Marriott international to acquire starwood hotels resorts world wide creating the worlds largest hotel: http://news.marriott.com/2015/11/marriott-international-to-acquire-starwood-hotels-resorts-worldwide-creating-the-worlds-largest-hote.html
[2] SEC S-4 Form: Marriott International & Starwood Hotels & Resorts Worldwide: http://www.sec.gov/Archives/edgar/data/1048286/000119312515409892/d105833ds4.htm
[3] Bloomberg: Starwood Gets higher $14 Billion offer from Anbang-Led Group:
http://www.bloomberg.com/news/articles/2016-03-28/starwood-hotels-receives-higher-82-75-a-share-offer-from-anbang
[4] Skift: The Inside Story of Anbang's Long Pursuit to Acquire Starwood: http://www.forbes.com/sites/elyrazin/2016/03/14/anbang-insurance-the-chinese-company-you-never-heard-of-thats-trying-to-take-over-u-s-hotels/#244690862e33
[5] The Wall Street Journal: China Construction Bank to Provide Debt Financing for Anbang's Starwood Deal: http://www.wsj.com/articles/china-construction-bank-to-provide-debt-financing-for-anbangs-starwood-deal-1458555187
[6] The Wall Street Journal: China's Anbang Drops Bid for Starwood Hotels:
http://www.wsj.com/articles/chinas-anbang-tells-starwood-it-is-walking-away-1459455942
[7] Bloomberg: Anbang Abruptly Pulls Starwood Offer, Clearing Marriott Path: http://www.bloomberg.com/news/articles/2016-03-31/anbang-abruptly-pulls-starwood-offer-clearing-path-for-marriott