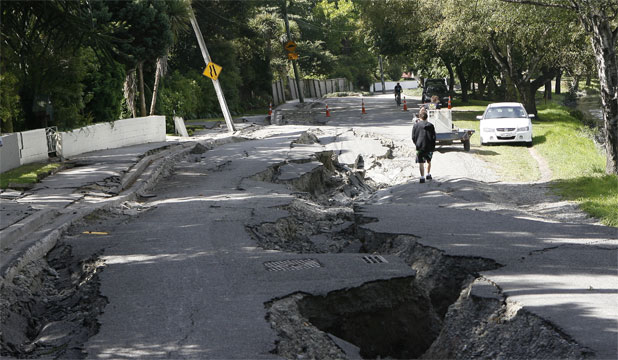 Christchurch the second largest city in New Zealand, has had a volatile last 5 years. It has endured two major earth quakes, with over 13,774 after shocks (as of mid 2015). There are major concerns going forward such as the delayed rebuild, businesses not returning to the city center, and meeting the day to day needs of residents. However Christchurch has an increasing entrepreneurial spirit, and soon the worlds first custom-built permanent street art exhibition, which highlights the large impact art has had on the city during this period.
It was the early hours of Saturday when my bed started to vibrate then move violently back and forward as items were thrown across the room, windows rattled while the ground projected a noise similar to semi-truck speeding past; in a moment of confusion I simply threw the sheets over my head to protect from potential falling glass and waited the longest 40 seconds of my life for it to pass. That was the morning of September 4th, when New Zealand's largest earthquake hit just west of Christchurch near Darfield Canterbury.
The damage to the city was widespread, causing large power outages, liquefaction, but luckily no directly linked fatalities (one woman passed from a heart attack during the earthquake). One of the most wide spread causes of damage was liquefaction. An event that occurs when moisture in the ground is forced out due to vibrations. This caused silt to build up in many areas of the city causing blockages and damage to many residential areas.
Fatalities were avoided due to New Zealands high building codes and the time of the earthquake. Occuring at 4.35am the streets were emptied from the city center as party goers made their way home a few hours earlier.
February 22 was a different story. at 12.51pm a magnitude 6.3 earthquake ripped through the city closer and at a much more shallow depth than Septembers. The distance from the epicenter and depth of the earthquake at only 5km caused much more damage as there was less area for the energy to dissapate. Further more landslides occured on the porthills, a residential area, and previously weakened buildings came crashing down. Most tragic was the death of 185 people.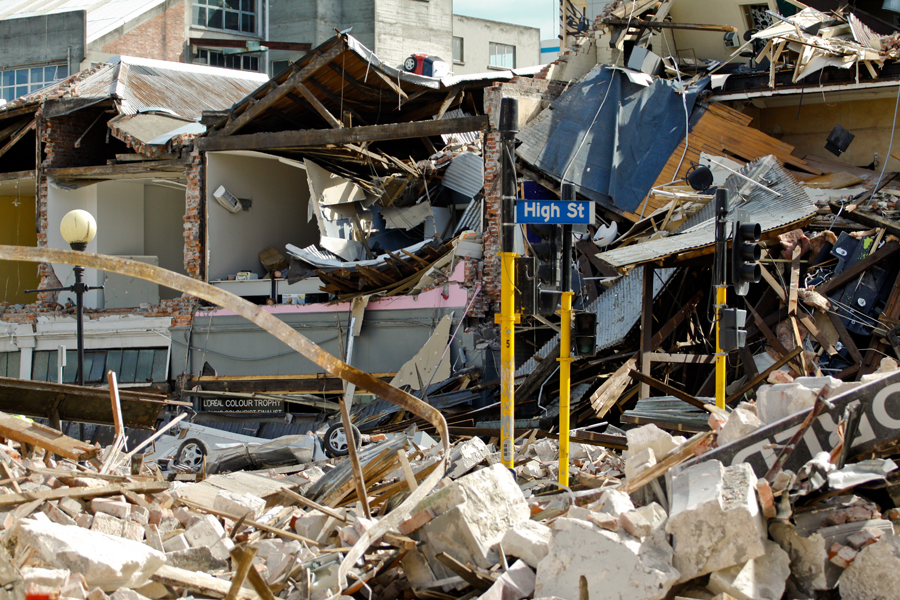 The city felt like it had just been kicked while down. Many left the city, and even the university offered students exchange programs for the first semester for displaced students.
In the face of tragedy an unlikely hero emerged- Art.
With the removal of buildings vacant lots were a plenty in the city. Creating opportunities for groups such as Gap filler, and local street artists to use as a canvas. Tagging was still illegal but with more important issues on hand and too many empty canvases, art started to proliferate in the city. Momentum was gaining and soon business's were volunteering their bare walls to be used as a canvas. Gap filler, an organization focused on creative urban regeneration with the focus on temporary projects and installations led the way. With projects such as Wayne Youle's: I seem to have temporarily misplaced my sense of humour, and creating a pallet pavillion for concerts and events. They created beauty out of constant reminders of the slow rebuild and the tragic events that caused it.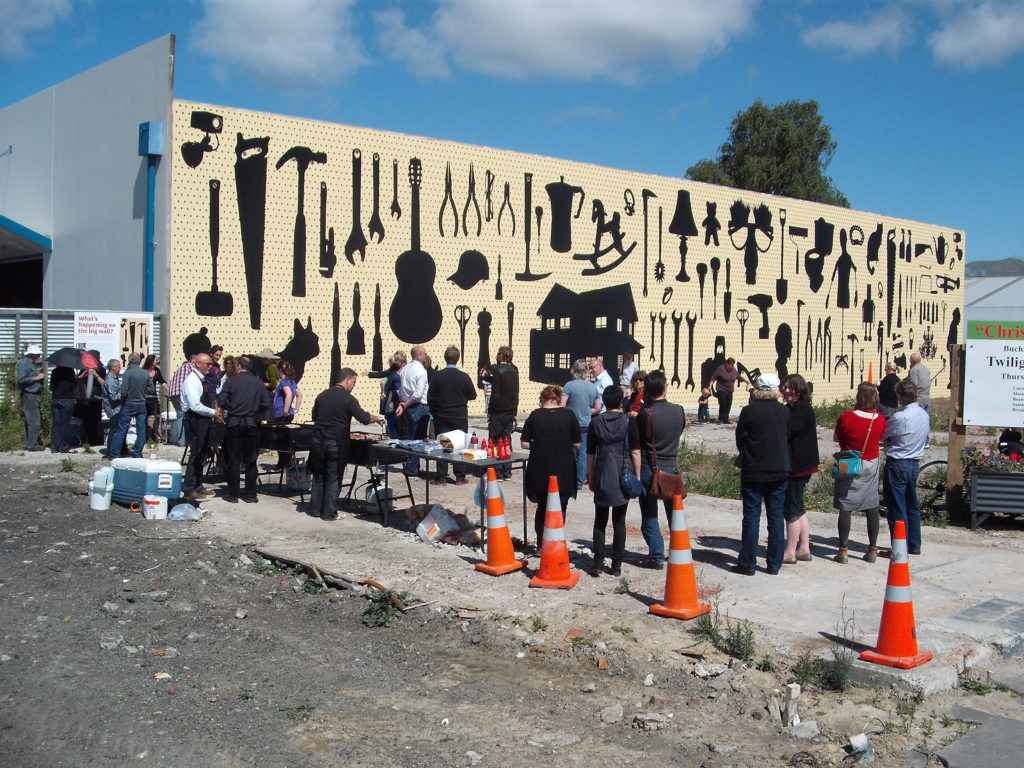 The pallet pavilion made up from nearly 3,000 blue pallets and over 2,500 hours of volunteering and it went on to be short listed out of 7 finalist for an international award for public art
Traditionally Graffiti was seen as a problem and an eye sore. However with a city in flux Graffiti grew out of its previous perception and turned into street art. This led to the creation of the Oi YOU! RISE street art exhibition which brought together international artists, such as ROA a collaboration between Beastman and Vans the Omega and let them loose on the city. The result was the creation of some of the biggest pieces I have had the opportunity to see. RISE converted an empty warehouse into an art paradise bringing the street inside and featured the biggest private collections of Banksy in the southern hemisphere, and pieces commissioned from local artists such as the DTRcrew. For more pictures on the Rise exhibition make sure to check out the Chrischurch City Libraries Flickr. Or if you'd like to watch a video on Rise click here.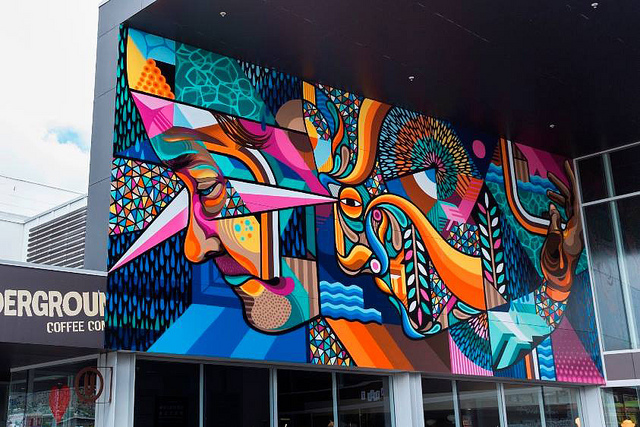 Source: Christchurch City Libarries Flickr
As well as graffiti OI YOU! partnered with Ian Strange; An artist who creates large scale visual instilations through the use of film and photography. Strange's latest instillation, The Final ACT, used vacant houses in the red zone- The area in Christchurch most affected, where homes are set to be demolished or removed. In the FINAL ACT he stated "it really is the last action of these homes on how they can live on, I hope that is something that can read locally here in Christchurch but is also something that reads more universally as how we see the home as an icon"
As time passed appreciation for street art grew even further and Oi YOU! responded with another festival coming back bigger and better with SPECTRUM in 2015. The YMCA, a partner with Oi YOU! pulled in over 6,700 visitors to their T-shirts Unfolding exhibition in one weekend while Spectrum added another 2,300 visitors that over that weekend. For more pictures of the Spectrum art exhibition click here. Or to check out a video on Spectrum click here. Street art now has a permanent place in Christchurch with the YMCA committing to build the worlds first custom-built street art exhibition permanently showing the best artists have to offer. This was solidified earlier this year with a $1 million(NZD) grant to the YMCA to develop this space.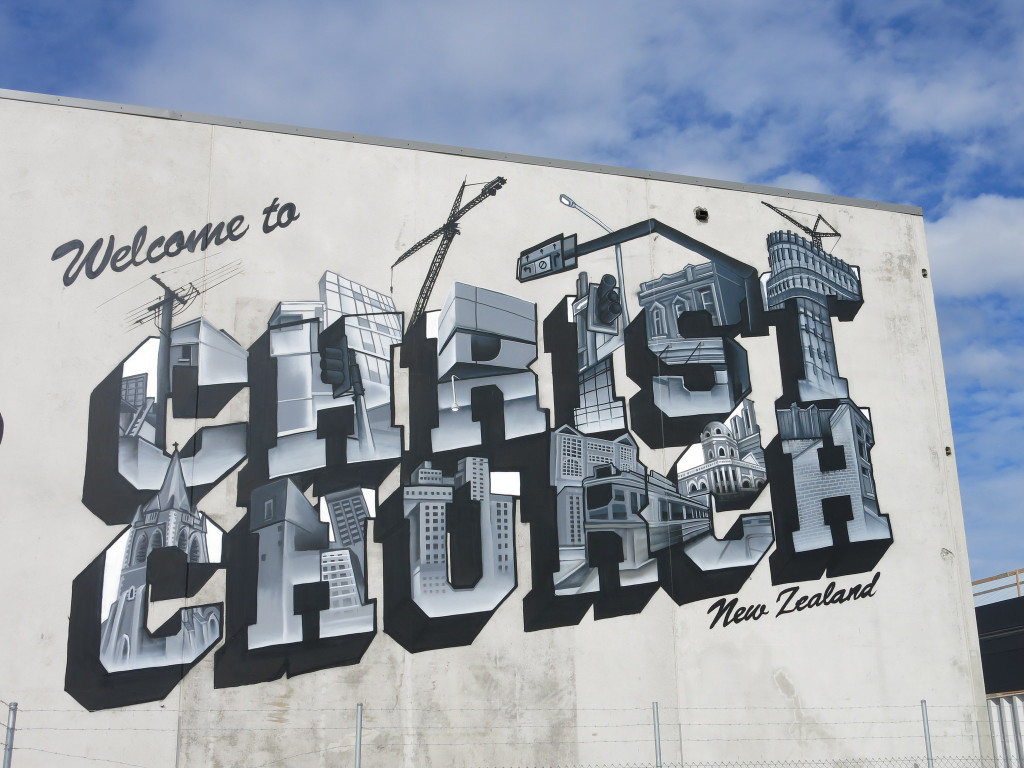 It may be that art gave residents something to keep their mind of their current situation, or the collaboration fostered by common spaces provided by Gap Filler, but Christchurch has a new sense of community. The Garden City is full of people who have gone through tough times, and are in the process of rebuilding the city they love. The uncertain environment forced businesses to think out side of the box and has fostered a creative and entrepreneurial drive not seen prior to the quakes. The future of the city is unsure with many challenges ahead; But one thing is certain, art is here to stay.